Brisbane's Leader in Japanese Truck Mechanical Repairs
Overland Mechanical Services is an established business in Rocklea on the south side of Brisbane, that has been at the forefront in truck mechanical repairs and services for over 14 years. Overland Mechanical Services has spent over 14 years specialising in Japanese trucks. When it comes to mechanical problems with your Japanese truck, we've seen it all. That's why we're able to deliver a speedy and thorough service without fuss, ensuring you get your truck back on the road as fast as possible.
Overland Mechanical Services operates out of a well equipped workshop in Rocklea on the south side of Brisbane. The Rocklea location is perfect for the Overland Mechanical Services workshop as it is close to all heavy industrial areas.  Really easy to get to off Ipswich Road, the workshop is large and has street and off-street truck parking.  The Overland Mechanical Services workshop is extensively equipped with tools suitable for all truck repair and service requirements. The latest diagnostic engine scan tools ensure any unusual mechanical problems are diagnosed quickly.
Our professionalism and mechanical expertise are reflected through our work. It's easy to see why we're not just a truck repair company. Overland Mechanical Services is a successful, locally owned business. With our knowledge of Japanese trucks and extensive years of experience, we always find new ways of driving innovation for truck service and repairs. All our staff are fully trained, qualified and constantly adhering to all safety and workplace standards.
Japanese Truck Specialists
Although Overland Mechanical Services can work on any truck, we specialise in Japanese trucks and are proud to be an independent mechanical workshop for the major Japanese trucks – Isuzu, Mitsubishi Fuso and Hino.  We rival the dealerships with our mechanical skills and knowledge of Isuzu trucks. We've experienced and can repair all manner of Isuzu truck problems. Due to our knowledge and experience with Mitsubishi Fuso trucks our mechanics can provide fast services and repairs to get your truck back on the road quickly. Our expert mechanics offer Hino truck repairs and services that immediately diagnose any issue and professionally repair it.
Friendly & Focused
One of our core values at Overland Mechanical Services is to maintain a positive and friendly working environment. We have a firm belief that a happy employee is a productive one. That's why we listen and pay extra attention to our crew. This ensures they're motivated and ready to help you get your truck back on the road.  We extend this value to our customer's so you feel like part of our team every time you visit us and know that your truck is in the hands of motivated and focused professionals.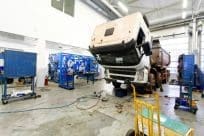 Industry Involvement
Our expanding product knowledge has given us a reputation as one of Brisbane's leaders in truck mechanical repairs and servicing. We maintain relationships with all our clients and have become a familiar face in the mechanical and truck industries. This has led to our growing contribution in developing connections with businesses within the Rocklea and broader Brisbane areas.
Ongoing Training
At Overland Mechanical Services, we provide all of our staff with ongoing mechanical training. This keeps us up to date with the latest in motor technology, ensuring a smarter and more competent workforce. It is also one of the main reasons we remain a cut above our competitors. We specialise in Japanese trucks and pride ourselves in our expert mechanical knowledge.
Click here to view Overland Mechanical Services' Standard Terms and Conditions.